James Bond and Land Rover
Land Rover and James Bond have almost as long a history as Aston Martin does with everyone's favorite secret agent. Whether driven by team members of MI6, or by the bad guys, it was always easy to spot one of the Rovers in use. And with the newest James Bond movie, the 25th Anniversary starring Daniel Craig, in production right now, everyone has their eyes peeled for happenings.
But before we get to the new movie, we've got to look at the last James Bond movie, Spectre, and its spectacular Defender turned SVX Concept, of which 10 were produced, and one just sold for $130,000. Specifically the one that set the record for Hollywood's most expensive scene, which was flipped using hydraulics as it collided with a Bond-piloted airplane. Personally, I prefer to buy vehicles that haven't been flipped a few times, however, everyone else is different.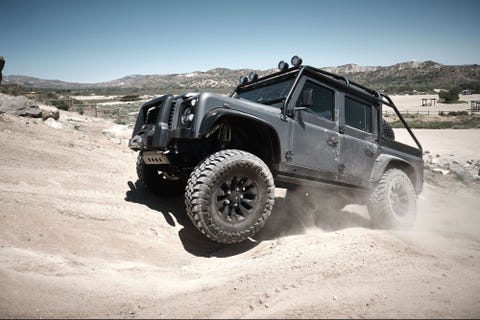 The ones that are left however are in fantastic condition, and look the piece of a secret agent Land Rover Defender. With fully custom body work and paneling, the SVX Concept is truly a unique vehicle, but it's not just for show; a 500-horsepower V8 engine was squeezed into the engine bay with a six-speed automatic transmission. Meanwhile, a lift kit, axle flex system, roll cages on the interior and exterior, and more ensure this Defender can cover any terrain with no problem. Finally, the interior, although not as nice as your modern day full-size Range Rover, including Ruskin leather interior, Alcantara headliner, a modern day nav unit, and some other quality benefits you might not expect from such a rugged looking vehicle.
But now onto the real shocker; Bond fans are used to seeing 007 in the most modern of vehicles, with rocket launcher, oil slicks, jets, submarine mode, and more installed by Q and the development team. Yet, set photos from the 25th Anniversary film shoots show Daniel Craig driving an open-top Land Rover Series III in Jamaica. Maybe this is how Bond enjoys retirement? Guess we'll have to wait and see when more details are hopefully released soon!